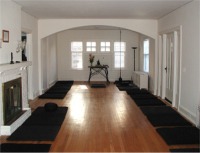 Practice
Weekly Schedule
Weekdays (Mon - Fri): Morning sitting from 6:00 a.m. to 6:50 a.m.

Tuesday: Open Sitting 7:30 p.m. to 9:00 p.m.

Thursday: 7:30 p.m. to 8:00 p.m. (Class - 8:00 to 9:00)

Sundays - Dokusan available
8:45 a.m. Samu (cleaning / set up)
9:00 a.m. Service
9:20 a.m. Zazen (sitting meditation)
9:50 a.m. Kinhin (walking meditation)
10:00 a.m. Zazen / Zazen instruction for Newcomers
10:25 a.m. Kinhin
10:30 a.m. Zazen
10:55 a.m. Kinhin
11:00 a.m. Dharma Talk

You are welcome to join Sunday sittings at the beginning of any sitting period. Please arrive early and wait in the living room on the 2nd floor until the beginning of walking meditation and enter the Zendo at that time. Zazen instruction is available during the 10:00 a.m. sitting period. During sesshin, the regular schedule is suspended.