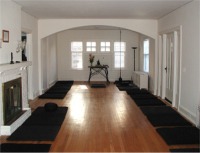 Practice
Weekly Schedule

Weekdays (Mon - Fri): Morning sitting from 6:00 a.m. to 6:50 a.m.

Tuesday: 7:30 p.m. to 9:00 p.m.

Thursday: 7:30 p.m. to 9:00 p.m. (Class - 6:30 to 7:15)

Sundays - Dokusan available
8:45 a.m. Samu (cleaning / set up)
9:00 a.m. Zazen/Kinhin
9:30 a.m. Zazen Instruction for newcomers
10:40 a.m. Service
11:00 a.m. Dharma Talk

You are welcome to join Sunday sittings at the beginning of a sitting period. If you arrive during a sitting period, please wait until the end of the walking meditation period and enter the Zendo at that time. Zazen instruction for newcomers is available at 9:30 a.m. During sesshin, the regular schedule is suspended.